8 Craigslist Alternatives and Replacements for Casual Encounters
What began as the place to find a roommate or some furniture, Craigslist became a hub for helping people find local sex. In 2018, with new laws passed by congress, Craigslist announced it would no longer carry its personals section. Whether it was used for finding a casual encounter, a missed connection, a lifelong love, the Craigslist personals section will surely be missed. But, not all is lost, there are still plenty of places where one can find local sex or a no strings attached hookup and remain anonymous as you do so. 
RELATED: 10 tips to stay safe when meeting online
Why was it shut down? 
Craigslist personals began feeling pressure to improve when congress began changing rules on responsibilities of host sites. Though people used the section for a multitude of things, the concern around human trafficking through the platform was a point of concern. Sex workers and their clients used the site and it was a place for consenting adults to find connections. However, the fear that this was not always the case was a concern for the site. For many, the site was simply a place to meet like-minded people that are into the same sorts of things and have a no strings attached, casual encounter that may lead to more. The fear that this platform was being abused led Craigslist to remove this offering from their site. 
What to do now? 
If you were someone that loved the idea of meeting someone this way or someone that wanted something entirely more casual than what is expected out of dating apps today, this loss might seem hard to replace. This leaves us with quite the predicament. Where does one go to replace craigslist for local, casual, sex? We've been wondering the same thing so we put together a comprehensive list of the 8+ Craigslist alternatives and replacements for local sex to help make the experience that much easier. 
Best Craigslist alternative for local sex: 
1. Ashley Madison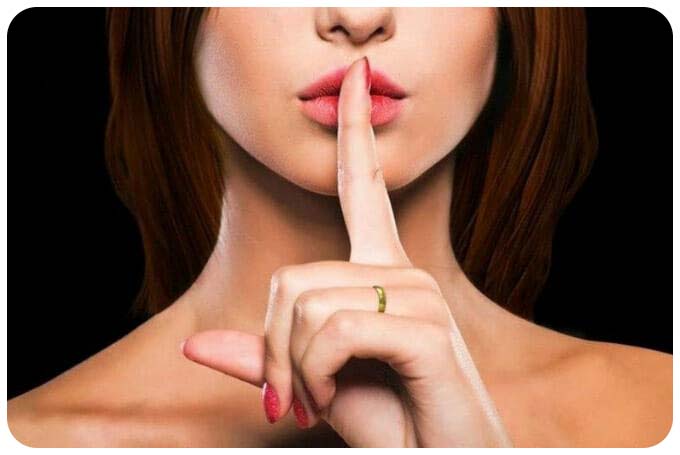 Visit: www.ashleymadison.com
Ashley Madison is one of the grandfathers of casual sex sites. The site was a leader in helping users facilitate extramarital affairs. Of course, taking normal precautions for this site is imperative as they did have a breach in privacy a few years back. In July of 2015, a group of hackers successfully downloaded data from the site that put users at risk. The hackers attempted to and were successful in some circumstances in extorting money from users. As when doing anything you don't want to become public on the internet signing up for accounts under aliases can help your experience be a little bit more protected. Use different email addresses, usernames, and passwords when making profiles on sites that may be leaked. Since the breach, the site has gone above and beyond to maintain user privacy. 
Why Ashley Madison is great for finding local sex. 
Its geolocation makes it a slam dunk for anyone trying to meet a sexy stranger and get it on that night.

It's "Traveling Man" feature allows users to make it very clear they are in the area for a brief encounter. 

Payment through the site can be made via PayPal for extra privacy as well as through Visa or MasterCard. 
2. Seeking Arrangements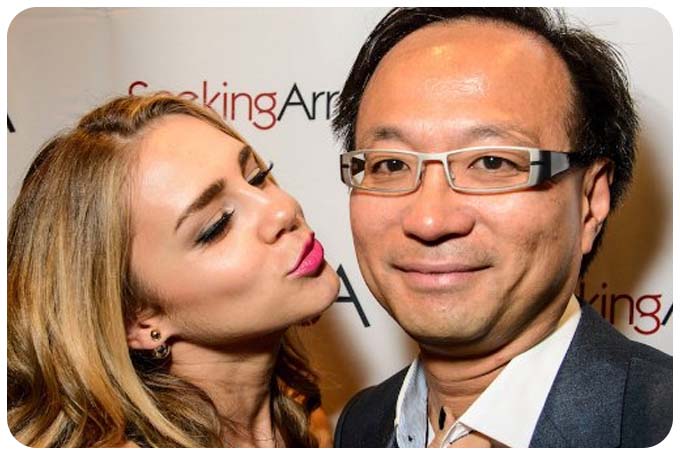 Visit: www.seeking.com
If casual hookups were what you miss most about Craigslist classifieds then Seeking Arrangements might be right up your alley. Seeking Arrangements is a great place for both parties to candidly state what they're looking for. The website and the app make it easy for people to use. From casual one-time meetups to full-fledged relationships seeking makes it easy for users to find what they want. What makes Seeking Arrangements great for local hookups? 
Why Seeking Arrangements is great
Widely welcomes users being honest and upfront about whatever they are looking for. Though the site does not facilitate members naming any prices it is commonly accepted that an exchange of sorts might take place here.

Members can message each other through the site and app free of charge. 

Seeking Arrangements allows users to set a radius on how far away they are willing to search so finding an ideal close hookup is easy.

 
6 Replacements for Craigslist classifieds
If instead of alternative dating options the classified personals section from Craigslist is what you're looking for we have found the best options there as well. Once Craiglist stopped serving many sites were more than happy to pick up where they left off. We've compiled some of the best-classified sites to help you find exactly what you might be looking for. 
1. ClassifiedAds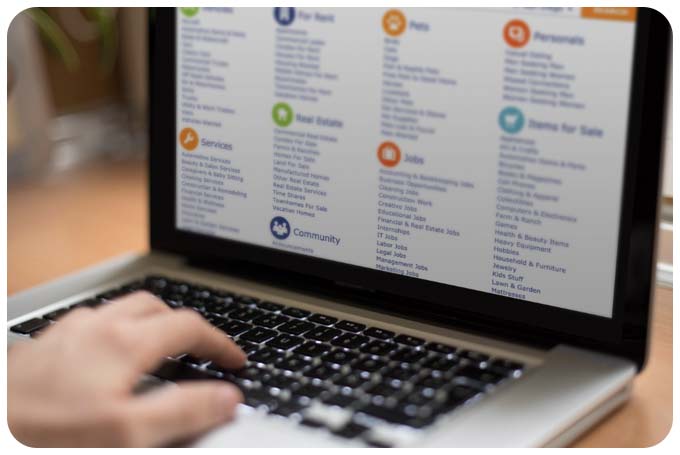 Visit: www.classifiedads.com
ClassifiedAds.com is a great place to find exactly what you might be looking for. Like Craigslist, ClassifiedAds lets users find a multitude of things from furniture to a soul mate. This website is almost an exact clone of Craigslist and most importantly their personals section is identical. 
ClassifiedAds has categories for everyone. Whether you're looking for a casual encounter, a same sex relationship, a straight relationship, or a missed connection. 

Like the Craigslist site, ClassifiedAds shows you posts from people in your immediate area. This feature allows users to find someone they're interested in their own town. 

Anonymity: Like Craigslist ClassifiedAds helps to encrypt email addresses. All sites are susceptible to hacking and we recommend always using an email address that does not tie back directly to you. 
2. Doublelist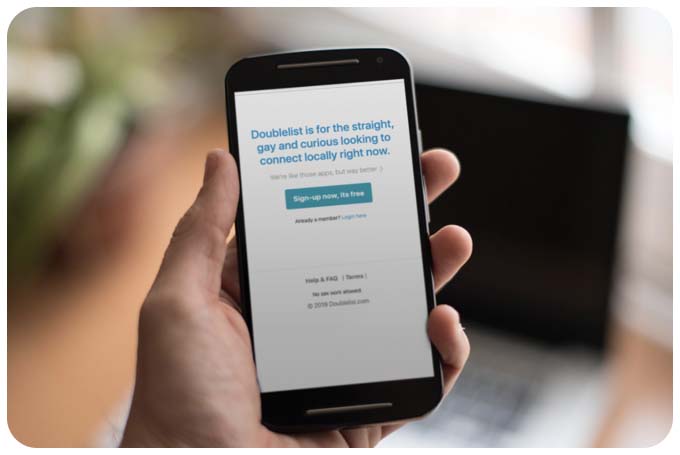 Visit: www.doublelist.com
Doublelist is a great alternative to Craigslist personals because it is strictly personals style posts. People are there looking for a hookup or a relationship. You won't accidentally run into your neighbor selling their couch on Doublelist. Doublelist is somewhat censored so you have to be creative in your requests.
Doublelist has many options for whatever you may be looking for. They have categories for

M4M, F4M, C4C, T4C, Etc. so you are sure to find someone looking for something you're into. 

You have to post creatively. Doublelist does not let you outright ask for what you want. Instead of talking about penis or vaginas you're going to have to call it something like cucumber and kitty. 

This site is closely monitored so anything openly mentioning sex work is taken down.
3. Oodle Marketplace
Like many of the other classified websites, the Oodle Marketplace allows users to one-stop-shop for whatever they may desire. The Oodle Marketplace personals section is a little different from the others in that users upload profile pictures. When keeping a low profile one may not want to use the feature but it is optional on this site. The other thing about Oodle is the location restrictions seemed quite broad so the radius is fairly large for where you might meet someone. Overall it seems more lenient about images allowed on the site than most other classified sites. 
Oodle Marketplace allows nude photos to be posted, though it is unclear on if they get removed after a certain amount of time. 

Users can upload profile pictures to this site so you have a better idea of what the person you're chatting with looks like. 

We recommend still being cautious of images used online as users can always use another person's images. 
Visit: www.oodle.com
4. Casual Encounter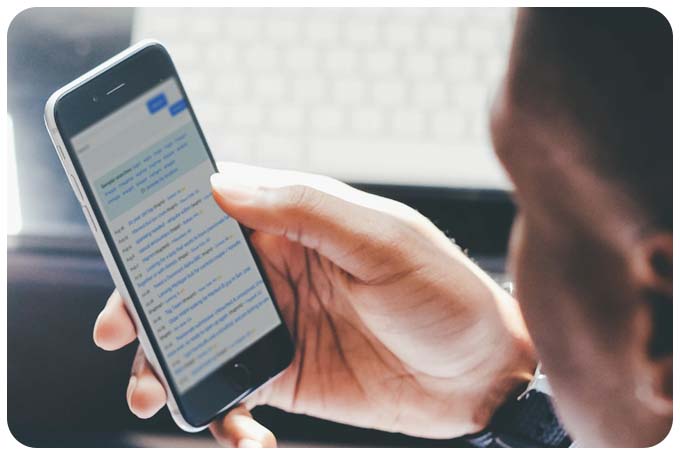 Visit: www.casualencounter.org
Casual Encounter is a site designed to replace to Craigslist personal sections only. The site is simple and easy to use. Right from the beginning the site lets you know they are only trying to replace the personals section and "professionals" would not be welcome. Besides that it isn't much different from the old way to meet people in your area and as the name suggests these meetings are expected to be very casual in nature. 
The site is very simple in design and abilities.

The site does encrypt users email addresses to help maintain anonymity. 
5. Ads Encounters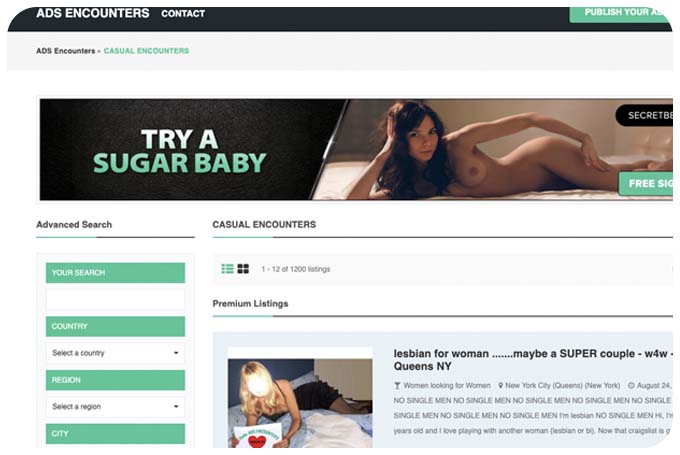 Visit: www.adsencounters.com
Ads Encounters is a site that seems to have the idea of casual hookups figured out. The site offers a ton of pairing options whether that is duo, trio, or any others. By narrowing the pairings users can find what they're looking for. The selection of users doesn't seem like that many in comparison to some of the other sites. When filtered by most cities the selection goes down considerably. 
The main perk of Ads Encounters is their pairing options. With over 45 combinations they have pairing options you may not have ever considered so if you are looking for a simple M4F encounter or a group dynamic this site can set you up with like-minded people. 

The selection is not huge. You may be better off on another site for a larger selection. 
6. Fetlife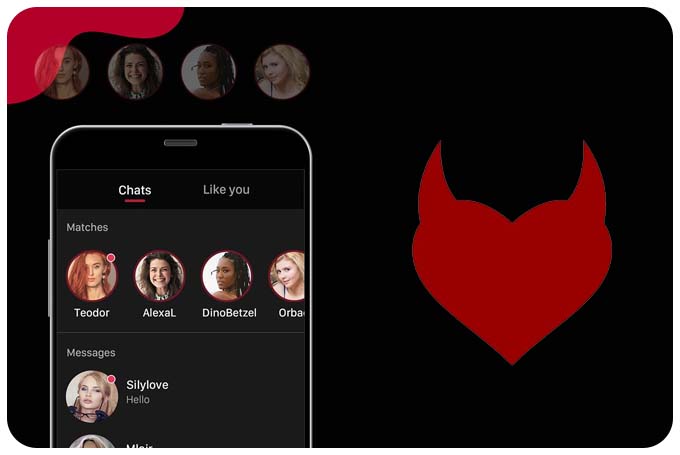 Visit: www.fetlife.com
Fetlife has many similarities and differences from the Craigslist personals section but may be exactly what you need to find local people looking for casual hookups. Here is why we think it's a great place for looking for what you're into.
The community on Fetlife are people that have specific fetishes or kinks. Craigslist personals really allowed users to be their true self, ask for what they wanted, and be contacted if someone else wanted that too. Fetlife offers just this, a judgment-free zone.

 Fetlife has a huge community. With over 7 million members Fetlife boasts one of the largest communities of sexually adventurous people on the internet.  

Many members don't show their faces. You can still participate in the site if you don't want to show your face.
So if you're missing the ole' Craigslist Classifieds and wondering what new options are out there don't fear. The internet is still full of magical places to find online sex hookups with people that are looking for exactly what you are too. Happy hunting!
7. BedPage
BedPage has claimed its place as a replacement for the much-missed Backpage website that has been shut down by the U.S Department of Justice. Like BackPage, Bedpage offers a platform where people can offer a variety of services or search for like-minded people in specific locations. 
When you visit the BedPage website, you'll find a list of locations in the United States, Canada, Asia, Europe, Africa, Latin America, the Caribbean, and Australia. Each of these locations also lists specific cities that you can click on to explore the services offered. 
Once you click on a city, you'll find a large selection of categories ranging from jobs, buy/sell, and most importantly, adult. The adult category has several subcategories including body rubs, escorts, fetish, etc. Clicking on a subcategory will lead you to a page with tons of listings related to the category. BedPage is super similar to Craigslist style listings so it's definitely something you should check out. 
This website provides a huge geographical selection so just about anybody in the world can post or search listings in their area. 

They provide an extensive adult category.

The website is super straightforward and easy to navigate. 
8. Adult Search
Adult Search is a website strictly for adult listings. Most of the listings on this site are for escorts, but you can also find erotic massage, strip clubs, swingers clubs, and gay bathhouses. The listings you find will really vary from city to city so don't be afraid to explore. 
This website has cities from all over the world so that you can find services wherever you may be. You will definitely find more options and variety posted under major cities. You'll also see a description of the city and what it's known for. Adult finder is a great alternative to craigslist personals since it is purely focused on adult services. 
This website has a huge selection of listings for adult services all over the world.

You can find a variety of services unique to each city. 

Payments on the site can be made through Visa or Mastercard.
9. Oodle Personals
Oodle Personals is another website that is fairly similar to Craigslist personals. On this website, you can narrow down the location to search for personals listings in your area. The listings here are categorized as men seeking women, women seeking men, men seeking men, women seeking women or seeking both. 
Unlike other websites that may list a selection of adult services, Oodle Personals sticks to the one category. You can find a variety of services if you search for them, they just won't be listed under that specific category. You may not find a ton of listings in your specific area because people may be more attracted to sites that cater specifically to adult services. 
This website provides a classic, personal ad platform based on location. 

You can narrow or broaden your search radius to see people in your greater area. 

They embrace people of all sexual orientations so everyone can feel comfortable.